---
The Central Jersey Hawks Basketball Club is proud to sponsor the

Be sure to register early
ALL age groups were sold out last year!!

Central Jersey Hawks
Richard Conover Memorial
Scholarship Fund
Details
---
Recent Team Successes
---
GIRLS TEAMS
Central Jersey Hawks 7th grade girls team (Martorelli) was a silver medalists in the 2013 NJ AAU Division 1 District Championship. In the double-elimination tournament, the team swept through the winnersí bracket with wins over the NJ Shorestars, Mid-Jersey Mavericks and Next Level Skill Set. After dropping the first game in the finals to the Skill Set team (who advanced through the bottom bracket after losing to the Hawks), the team settled for the silver after a highly contested, one point loss to the Skill Set team. In the past 4 years, the team has come away with 2 golds and 2 silvers in the District Championships.





BOYS TEAMS
The CJ Hawks 15U finished 2nd this year in the NJ States with a silver metal. The team has continually showed progression over the years and finished 3rd in The B Division last year out of 28 teams. We select 16 players for our team and try to split players evenly in tournaments.
The concept is players improve during practice and experience game time. Practice is always competitive. Only in the states do we combine the team.
---
FORMER HAWKS IN THE NEWS
---
For the second week in a row, Adelphi
Senior forward Jessica Kitrys earned Spalding Player of the Week honors for the week of

February 24.
This past

Saturday,

the 6-foot forward became Adelphi's all-time career points leader, with 1,598 points.
The NCAA statistics have Kitrys ranked second in the conference and tenth in the country in field-goal percentage (59.6 percent) and first in the Northeast-10 with 19.4 points per game on 60% shooting. Kitrys is also averaging 7.2 rebounds on the year. Jessica played on Coach Martorelli's 2010 CJ Hawk team for 3 years.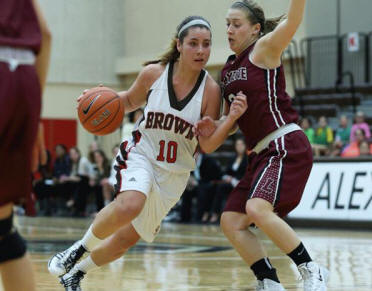 Brown University Senior co-captain Lauren Clarke (Colts Neck, N.J.) was named to the Capital One Academic All-District First Team in an announcement made by CoSIDA on Thursday. As a First Team honoree, Clarke is eligible for Capital One Academic All-American consideration with First Team selections from the other seven districts.

Clarke, Brown's leading scorer, also ranks second overall in the Ivy League with 16.4 points per game and third with 39 three-pointers. On January 3 against New Hampshire, she tallied a career-high 28 points and has scored in double figures in 14-of-16 contests this season.

A 2012-13 Second Team All-Ivy honoree and Business, Entrepreneurship, Organizations concentrator, Clarke ranks 11th on Brown's all-time scoring list with 1,122 points and currently sits atop the record book with 178 career treys. Lauren played on coach Martorelli's 2010 team and Coach Ryan's 2009 squad.
---
Highlights
---
3 National AAU Championships
44 NJ AAU Association Championships
21 Sweet 16 appearances in National AAU

125 Former Hawks playing in the NCAA
22 boys and girls teams from U10 thru Open Division